80W Integrated Solar LED Street Light with Motion Sensor
The integrated led street light, which can also be called the all in one solar garden light, combines the high efficient solar panel, Li-battery can be used for 8 years, high brightness leds, intelligent controller, and anti-burglary installation support together.  It uses several practical and good control technology, such as mini-controller and human infrared induction, and unites the integrated design to satisfy the needs of low consumption brightness, long using time and maintenance free, and the performance of water-proofing and heat dissipation are also perfect. 
Working mode: During working time ,when there are movements detected ,the lamp switches to 100% capactity ,when movements gone ,the lamp turns to 50capacity to save power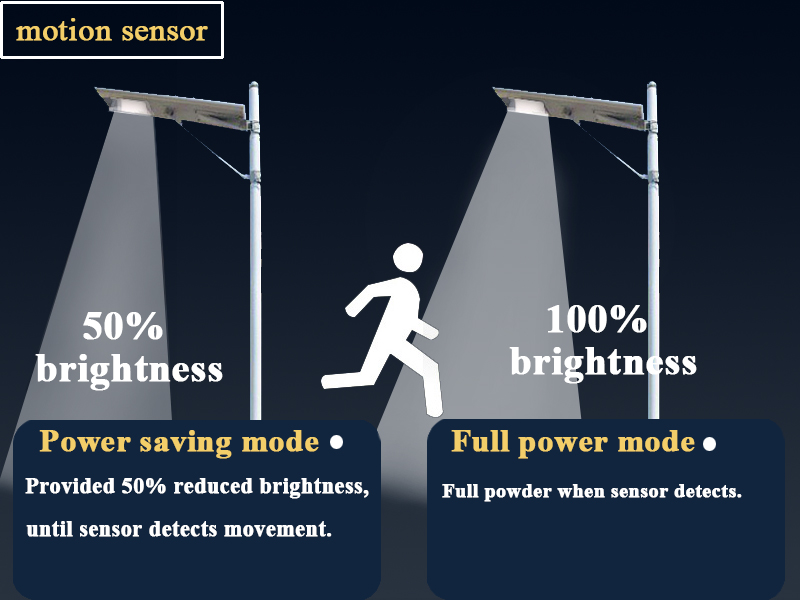 Features of Integrated solar led street light:

– Integrated design without stay wire, easy installation, low cost in transportation, several installation methods are provided, and the lamp post can be local materials, such as the iron post, wood, bamboo, plastics and so on;
– Using solar energy to save electric energy to protect resources on earth;
– The Li-battery with high capacity and long using time is applied, and the using time can be 8 years;
– Stay wire is not needed, and the installation is quite easy;
– Using the alloy material to build the main structure, which has good performance in rust protection and anti-corrosion.
– The modular design conception is adopted, which makes the installation, maintenance and repair much easier;
– Segmentation power control. In the midnight, there will be little people on roads, the solar light can reduce the brightness to save energy and increase the practicability.
– Best components are used in the production of the integrated solar street light, and it will work for long period after installation;
Specification:
Model NO.: SC-SL80W-01
Solar Panel :high efficiency imported Monocrystalline silicon solar cell
Battery Type: Lithium Battery  12V 30AH
LED Power: 60W/70W/80W/100W
Working Mode: Motion Sensor Induction,Light Control,Time Control
Lumen: 110-130LM/W
CCT:6500-7000K
Lighting Viewing Angle: 65°x 120°(bar wing street light distribution )
Working TEMP( ℃ ):-25~+65℃ 
Sensor distance:8-12m
Mounting height(m): 9-10m  
Dimension:1190X490X29MM