Neon Strip Light is a flxible led strip light packed with silicone neon tube. Working under DC12V/24V, these neon lights have very good IP rating. Moreover it can reach IP65 and some can be up to IP67. In addition,they are bentable 360 degree with good lighting effects and brightness. So this neon strips often use to make letters for advertisement.
Why use neon strip lights?
Firstly, Energy saving: The flexible whole-body lamp strip can save more than 80% of energy
and consume less electricity, because the light source is LED;
Secondly, Soft:neon strip light can withstand squeezing and is made of environmentally friendly Silicone
material, which is not only simple and convenient to install, but also brighter than the
previous glass.The brightness of the neon lamp is more significant than the effect. The
flexible full-body LED light strip can be bent up to 360 degrees, therefore many companies
easily can make various texts,Words and graphics with them.
Thirdly, Longevity and durability: The launch of this new type of Neon LED strip has a life
span of 30,000 hours longer than the glass tube neon used in the past.
On the basis of technology, with a new structure, Silicone material, its durability is not
questioned, because there is no need to consider the problem of broken glass neon lights (
silicone lamp body);
Fourthly, High brightness and good light transmittance: The imported transparent silicone
has a light transmittance of 88%-93%, a uniform astigmatism surface of 160 degrees, and a
light effect distance of 1-3 meters.
Finally,neon tube light is not easy to atomize, and can resist UV radiation. The light source is made of
2835 precision processing, with low efficiency, pure color, and no pollution. The light
source Use imported ultra-high brightness LED series connection.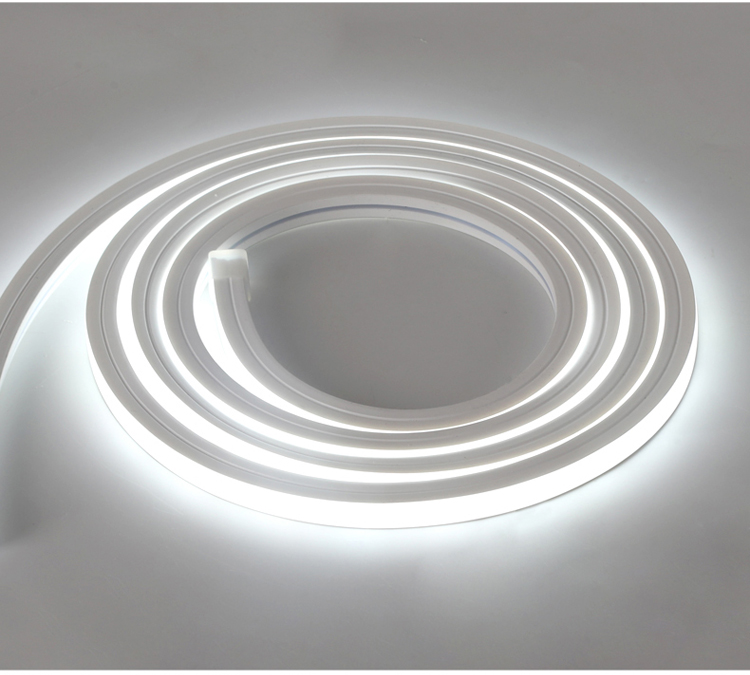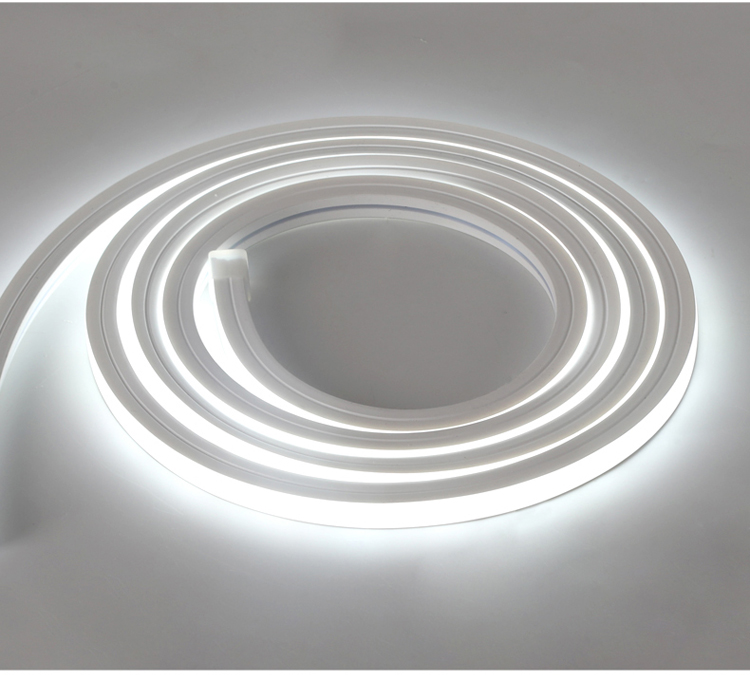 Technical parameters:
1.size:1000×12* 12mm
2.rated power:12W ± 1W
3 input voltage :DC12V/24v
4 light source smd2835
5 luminous flux 800LM ± 25lm (measured 12W)
6 color temperature:Cool White 6000K, Warm White 3000K, Natural White 4000K
7 color rendering index: RA > 80
8 Silicone lamp body material
9 IP Rating : IP65
10 working temperature – 25 ℃ – 55 ℃
12 light source life >30000h
13 95% efficiency > 13%
14 drive mode: external DC drive power supply
15 heat dissipation: structure conduction cooling system
16 light attenuation working 1000 hours < 3%, 3000 hours < 5%
17 thermal resistance (TR) < 0.08 ~ 0.1 ℃ / W
18  The surface material and surface treatment adopt imported flame retardant Silicone stretching integrated molding lamp body.
19 However, durability requirements LED flexible neon lamp must be able to work normally under the environment temperature of 50 ℃± 2 ℃, and all components shall be free from cracks or cracks
20 After durability test, the luminous flux of LED neon flexible light strips shall not be less than 95% of the initial luminous flux.
21 The LED flexible neon lamp with voltage variation characteristics must be able to work normally under the DC power supply in the range of 90% – 110% of the rated input voltage.
22  Extinguish characteristic can work normally after 8000 times of test at intervals of 5 seconds according to the specified conditions, and all components shall be free from cracks or other defects.
23 Physical and functional damage, any led must not be dead or flashing failure phenomenon.
24 After the vibration test at the frequency of 250Hz / min, the shockproof characteristics shall not have any abnormal quality such as looseness, deformation and falling off
25 The safety is in accordance with IEC60598
How to connect neon lights with power supply?
There are two ways to connect the neon flex lights:
Direct Connection: Neon LED Strip Lights can not be over 5meters , or there will be a lighting decay. The overall power of the strip lights can not overpass 80% of the power supply.

neon light strip for room

Paralell Connection: You can connect multiple Neon LED Strip Lights to a power supply. However each one can not be over 5meters , or there will be a lighting decay. The total power of the neon lights can not exceed 80% of the power supply.

neon strip lights for room